Dev.: RAY2DAY MSX SOFTWARE
Publ.: RAY2DAY MSX SOFTWARE
Year: 2010
Product ID: R2D001
Medium: 16KB ROM cartridge
Sound: PSG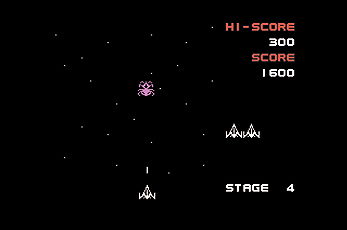 Mission2Mir is the first game I made for MSX. It is a shooter (shoot 'me up) based on classic MSX arcade shooters like Galaga and Galaxian.
My goal was to look if it was possible for me to develop such game, complete with shooting spaceship, weird moving alien creatures, score/hi-score, sparkling sky filled with stars etc. also the game had to be okay involving timing and speed. Next to that it was important for me that it was exciting and had a good gameplay.
I didn't give myself a deadline to finish the game, but it felt very good to be programming again.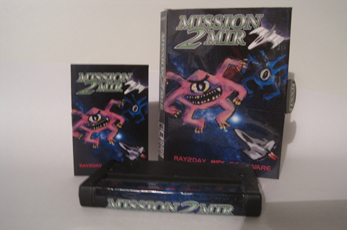 Therefore the game was ready more earlier than I had expected. For a first game, personally I am satisfied with the result. The response of the MSX scene is also great.
The MSX Dev is a competition to encourage developpers to make new games for MSX. Every year I am looking out for which new games are develloped by creative fellow MSX users. Now I have made a game of my own, people asked me to submit it. And ofcourse I did. Together with games from other developpers, you can download Mission2Mir as freeware from the MSX Dev '10 website.
-> P L A Y _ M I S S I O N 2 M I R _ O N L I N E tru File-Hunter on WebMSX - CLICK HERE! <-
(C) COPYRIGHT RAYMOND VAN HOORN / RAY2DAY MSX SOFTWARE