MSX modification (casemod)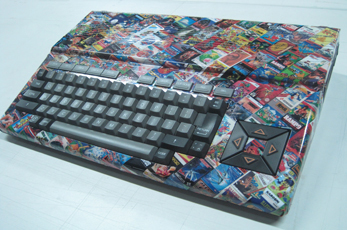 For people who are not familiar with the term casemod: 'casemod' is short for case modification. After seeing great MSX casemods made by Lord S.M. Zett (Darkstone), I came up with the idea to casemod my NMS 8245.
Because of my former profession as graphic designer I knew I had the right materials and tools available at my work to create a perfect casemod that time. I also had in mind how my casemod was going to be and how would look like in the end. Now it just had to be produced.
The 'Pimp up my Philips NMS 8245'-project was born.
With Adobe InDesign I made a lay out using several MSX game covers I scanned over the past months. When I finished it, I printed the design on white polymeric sticker material. It was laminated with an extra layer of plastic to protect the print.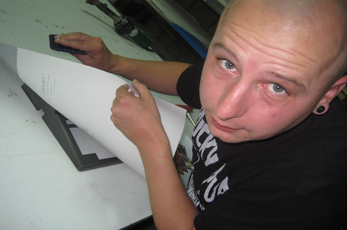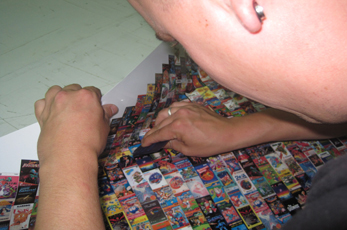 Later I went 'wrapped' the print around my NMS 8245 computer case. After taking the case off the machine, I cleaned and disgreased the case completely. I removed a strip from the back of the sticker to apply it, starting at the top of my MSX case. Slowly I worked on towards the bottom of the case, applying the sticker material gently. I used a dryer to get the material into the grooves and round the corners of the MSX case.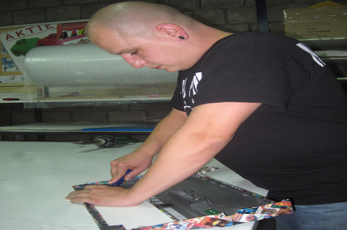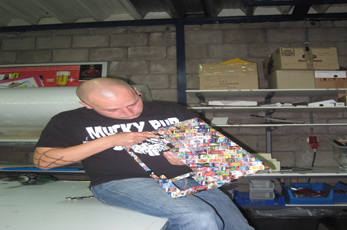 Holes for the keyboard and other keys I cut out with a sharp knife and the rest I cut off and folded to the inside of the MSX case. Some little air bubbles left I pierced with a needle to make my MSX as smooth as possible.
Thanks to my former employer for sponsoring materials and the tools to make this possible. Also thanks to my lovely wife Maartje, without her help this project would not have been succesful.