Developper: Capcom
Publisher: Capcom
Year: 1987
Product ID: CAP-201
Medium: 2 Mbit MegaROM cartridge
Sound: PSG
The first game I want to review is Higemaru (Majaijima). To my personal opinion the best game ever made for MSX. I am really proud to have this game in my collection. Higemaru, also known as Pirtateship Higemaru, is one of the few games made by Capcom for MSX. Unfortunately the game is not well known on MSX. To bad, because like I said to my personal opinion it is one of the best games ever made for MSX.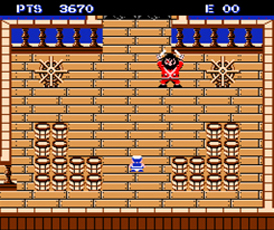 In this game you play a sailorman named Momotaro. You sail the sea and you have to enter ships and islands. On this ships and islands you have to defeat your enemies by throwing barrels and other objects.
The Higemaru MSX version comes from the arcade version of the game. Next to the arcade parts, on the MSX- and Famicon-version Capcom has added a kind of quest-part to the game which I like vey much. During this quest you visit several islands (Cuck-, Curse-, Mermaid-, Hebi-, Ookami-, Jack Knife- en Ookami Island). Lots of puzzles have to be solved. Pirates, monsters, other enemies and ofcourse endbosses have to be defeated.
The Higemaru MSX version I got in my collection is complete; with box, manual and a textile map. Next to photo's/scans from my cartridge on this website and Generation-MSX I never saw an other version of it on the internet. So, it is a very special cartridge.
I higly recommand this game if you want to play a good and fun game on MSX. Ofcourse I finished this game!
Info, screenshots and scans (cover, manual, cartridge, textile map) you can find on Generation-MSX.nl. A complete map with all levels you can find on MSX Solutions. A walkthrough of the game you can find on cheatmsx.com. Ofcourse it is much more fun to play the game without.