Developper: S*T*A*R
Publisher: Matra Corp.
Year: 2012
Product: RB900
Medium: paper
Sound: -
A book review at the game review section? Is that possible? Yes ofcourse. It even gets better; it's a review about a book full of MSX game reviews. Konami games! All by Konami released and unreleased MSX games.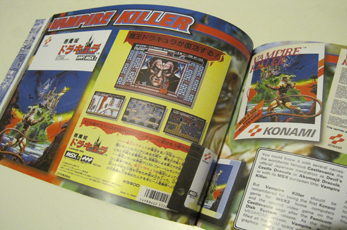 A master piece, that's what S*T*A*R of Matra Automations gives us MSX lovers worldwide with this beautiful book. Like said ALL Konami MSX games are mentioned in it, together with nice photographs of the games and telling which versions are released and in which countries they are released. Also information about all existing bootleg versions. Beautiful coloured book with pictures of covers, manuals, cartridges, screenshots of the games. With every game a complete explanation of the game together with a supplementation of beautiful illustrations from the original manuals, tips and tricks, cheatcodes or interesting know-abouts. Fun to read or just to enjoy all the good things Konami brought us on the MSX system.
Expensive? Books are expensive! As you might have read on my website, I am a graphic designer and I know how much research and time is necessary to design, create and make this kind of book. It is a very colourful and well organized book. Exactly something I would have in mind creating a book like this. Next to that I know what the printing costs are from a big book like this, so in fact I think you have a bargain buying this book for less than € 30,- .
A 'must have' for every MSX / Konami lover and/or collector. I would say buy it!